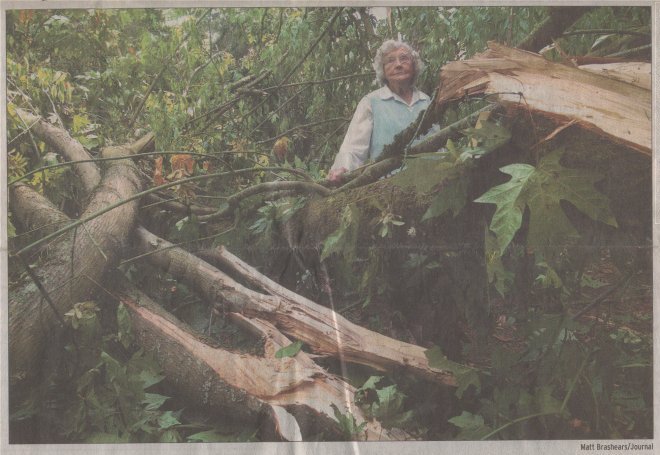 LOCAL WEATHER PHOTO by Matt Brashears/Journal: Lightning from a Sunday storm felled a large maple tree that Kent's Edith Brandon planted more than 40 years ago. The Sunday thunderstorm damaged a half dozen other large trees, which she was advised to remove. "I didn't invite it, that's for sure," Brandon said of the lightning.
Lightning crackles through backyard trees: Kent woman loses several trees, one woodpecker
2003-08-13
by Bruce Rommel
Journal Reporter
KENT -- It looks like lightning played a game of leap-frog in the back yard.
While awaiting the insurance adjuster Tuesday afternoon, Edith Brandon pointed to where a powerful lightning bolt split the trunk of a towering Douglas fir tree.
It looks like the bolt then jumped about 15 feet this way, blasting apart the trunk of a maple tree, then another 20 or so feet that way, blowing strips of bark and small branches off the trunk of another large Douglas fir.
Nearby, Brandon found a dead woodpecker on the ground.
"This is something you don't see every day around here, thank goodness," Brandon said, surveying the aftermath of the lightning strike.
A tree service told her the lightning that struck the yard of her East Hill home during Sunday's thunderstorm damaged a half dozen large trees, which should be removed.
Brandon and her visiting daughter didn't see the lighting strike, but were startled by a boom loud enough to rattle the windows.
"Sunday, 10 minutes to 9," Brandon recalled, "it sounded like our whole house was blowing up. It scared the life out of us."
Neighbors came running and saw the damage and fallen trees.
"The guy across the street said, `I'm going to miss those trees,' and I'll sure miss them, too," said Brandon, who is "90 and a half" years old and still tends to much of the yardwork.
She and family members have watched the trees grow for decades. They purchased dozens of trees from an Auburn nursery that was going out of business more than 40 years ago and planted them around their large home lot in the Starcrest subdivision near Southeast 230th Street and 132nd Avenue Southeast.
Thunderstorms and lightning strikes swept across the state last week, sparking some wildland fires elsewhere in Washington.
The weekend storms also brought traces of rain. The weather station at Sea-Tac Airport recorded 0.13 inches of rainfall Sunday and 0.14 inches of rain on Saturday. Those readings and 0.05 inches on Aug. 5 account for the measurable precipitation so far this month.
While lightning strikes are reported infrequently around King County, thunderstorms aren't all that uncommon in the Puget Sound region.
"It's not out of the ordinary, it's just that we have a lower frequency of thunderstorms around Puget Sound," said Ted Buehner, a meteorologist with the National Weather Service office in Seattle.
Residents of the Puget Sound basin can expect to see perhaps 10 thunderstorms per year, while those in Eastern Washington will see 10 to 20, Buehner said.
Florida is at the top of the list, averaging about 200 thunderstorms annually, he said.
Edith Brandon said Sunday's lightning strike was the first she's experienced, and she hopes it will be the last.
Besides the two damaged fir trees, the maple tree felled by the lightning strike also dragged a nearby Western hemlock to the ground.
"I hate to see all these trees gone. It was like we had a little forest of our own out here," she said.
All materials Copyright © 2003 Horvitz Newspapers, Inc.
Any questions? See our contact page.
Eastside:
King County Journal
1705 132nd Ave. N.E.
Bellevue, WA 98005-2251
Phone: 425-455-2222
Fax: 425-635-0602
South County:
King County Journal
600 Washington Ave. South
Kent, WA 98032
Phone: 253-872-6600
Fax: 253-854-1006