Welcome to the Genealogy section of my website. Here you will find the pages created by and for my genealogy research. I don't have a lot of time for this right now, but as I gather information, I'll try and get it included.
Just in case there is any confusion, I am NOT a professional genealogist. I am an enthusiastic genealogist. The difference is that I don't have a lot of money to work with to go places, or get primary sources. Someday, I hope to have the time and resources to improve my collection of primary sources, but until then, please take anything you see here with a grain of salt.
---
The pages on this genealogy site use Ahnentafel recording begining with me. To take a look, click here. This is the starting point to view my data pages. All the pages have been done manually, with the genealogy information compiled from my family's records and the many email and web page contacts that I've made.
---
There are several special pages devoted to various ancestors of mine, including:
---
The Putnam Project
Happy Birthday Grandma! 91 years old on February 7th, 2004
You can also view pictures from her 90th Birthday in 2003.
John Putnam, Sr. is the first Putnam Ancestor that came over to this country from England in 1634. I'm slowly getting his descendants recorded in these pages so anyone descended from him can see how he/she connects up with everyone else. If you have John Putnam in your ancestor lists, please email me with a list saying how you descend from him. I'll post that along with my own.
The John Putnam page also has links to some of the most extensive sites dealing with the Putnam Name. I am no longer subscribed to every Putnam genealogy mailing list that I can find, but I'll forward your question on to somebody who might be able to help. There's always activity on the genealogy mailing lists for the Putnam/Putman surname.
Black and White Photo Collection - This is a collection of some of the older pictures of my ancestors and family. If anyone has additional photos that they would like to share, please send them to me.
---
The Lupkes Project
7/31/2000 - I've started to type in the research pages done by my grandmother, Lucille Mildred Foster Lupkes. Here is a list of what I have done so far:
Here is a link to the Lupkes Genealogy Pages by Carol LaRue:

---
Pictures
---
Genealogy is more than names and dates. This is a slowly growing collection of writings about my family that I thought I would post for other people to read.
---
Disclaimer
Links may or may not be completed. This is a continuous and ongoing project. If you don't see sources yet for an individual's information, it's probably because I haven't been able to get the page updated. Let me know about any sources you have found that should be included. If you have any of these names in your own genealogy, please let me know, and we will see about getting a page created to link our information. I can set up an email link to your email address, or help you create these pages on your own site for your specific family. After all, the more people we have with these files linked, the more information we can put online.
If you ARE any of the names in these pages, please email me with your secret to long life.
---
This web page is a member of the following societies: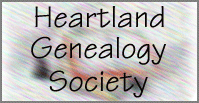 Heartland Genealogy Society
SurnameRing
[ Join Now | Ring Hub | Random | << Prev | Next >> ]
Information on this page may be copied freely by all family members. If you are not family, please contact me for permission. If anyone makes a million dollars with this information, please share the wealth, or make a healthy donation to a worthy cause. Links may or may not be completed. If you have any of these names in your own genealogy, please let me know, and we will see about getting a page created to link our information.